Hi! From Everyone at the Refuge here in Roswell NM, Alien Capitol of the World!

1. Your Webmaster Has Finally Hijacked The Pages. Click The Link At The Middle of The Footer On Any Page For A Little Excitement, And A Lot Of Information, I will Also Be Hiding Clues To Upcoming Events That I am Not Supose To Until It Gets Closer To the Time of The Events, So Check Back OFTEN!!!
2. Our Weekly Fund Drives at Various Roswell Locations Will NOW BE HOLDING Exciting EVENTS! CHECK OUR CALANDAR PAGE, I will Update ASAP.
3. THE SITE IS ALMOST COMPLETE!!!! I Will Be Doing The Meta Tags and Placing Our Site On The Search Engines WITHIN the NEXT 2 DAYS!!!!
Sadly Desert Animal Refuge will no longer be able to take in Cats, until we have our new 'Cat House' Facility up and running. Any and all Cats pictured on our web page are my personal pets.
A Brief Introduction:
Desert Animal Refuge was Founded around four years ago by a hard working man named Mike Morrow, and to my understanding he use to get paid for his labor.
Mike decided to open an Animal Refuge where any unwanted, neglected, or homeless animal could find the care, shelter, medical attention and love they deserved.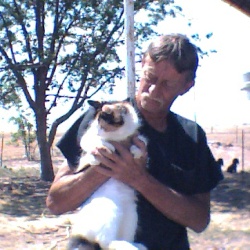 Desert Animal Refuge is a No Kill Shelter, with a spay/nueter policie that is upheld even though the Refuge is responsible for 100% of Veteranairan cost. As of yet not one has agreed to work pro-bono. But our hopes are high.
Mike's Refuge takes in animals that would be put down for no good reasons, there are a few almost miricle cases. Take the brindle Pit featured not only on the web image, but also on E-Bay. Shelters here, and around the nation have a NO PIT Policy, well that crazy silly puppy would have had 2 strikes against him, not only was he mostly full pit, but the first time Mike met him, he almost bit off Mike's nose. But at Desert Animal Refuge even the bitters have a right to live.
But this has been a rough road Mike decided to go down. Weekly fund drives are not bringing in the kind of money it takes to run the Refuge. Donations of food are pretty reliable but he has kept the Refuge going with out any funding from Federal, State, or Private Foundations.